---
Roger Merritt's Home Page
West Country
Click here for a map of England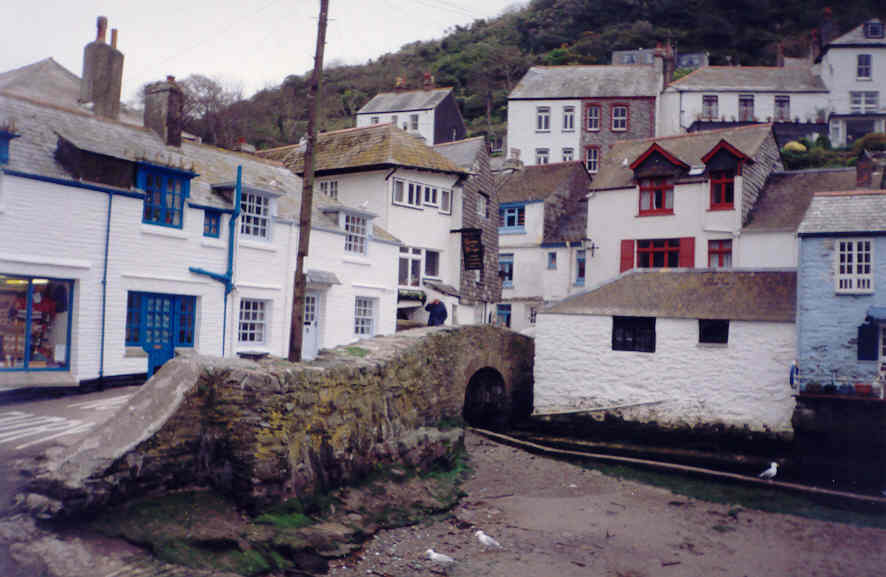 The West Country simply refers to all the counties of southwestern England, from about Wiltshire to Cornwall. Therein lays some beautiful scenic country, ancient ruins, legends of King Arthur, literary classics of Thomas Hardy, Roman spas, and the list could go on, and on. I couldn't begin to cite all the interesting places I've been to in the West Country, yet there are so many more I haven't even been to yet.
I have been to the West Country on several trips, through rain and sunshine, by car, van and motorcycle, to places like Stonehenge, and Avebury, two of the most significant megalithic ceremonial sites. A little to the south and you come to Salisbury, one of the most satisfying towns to visit in England. It might not be accurate to say Salisbury is in the West Country, but it certainly is "on the way" to the West Country. Salisbury Cathedral is arguably one of the best cathedrals, anywhere, certainly of the "super tall" steeple order. Measuring 404 feet high, Salisbury Cathedral's steeple is a marvel to look at. And the town is not half-bad. I've wandered around it a few times. Moving westerly, just across the county-line into Dorsett, there is the elevating hill town of Shaftsbury, the one-time stronghold of King Alfred's Kingdom of Wessex. Shaftsbury's "Golden Hill" is one of the most famous views in England. Linda's most lasting memory there was not being able to find a single Barclay's Bank ATM machine anywhere, and mine was seeing the view that made the Hovis bread commercial famous. Moving west, I've taken in Bradford-on-Avon's lovely southern Cotswold charm, and a chapel dating back to Saxon times. Of course, a visit to Bath is obligatory when one travels west of London, and I have been there at least three times. The extant evidence of Roman plumbing and pools of warm mineral water are just amazing, and give one a glimpse of the massive undertaking Rome went to in order to civilize the British Isles.
Moving a little further SW, the county of Somerset possesses too many attractions to pass up. The romantic legend of King Arthur is strong in Glastonbury's ruined cathedral-graveyard, where Arthur and Guinevere are supposedly buried. One doesn't necessarily have to be a believer in Camelot to be positively engrossed in the appetizing charm of Somerset and the spiritual origins of chivalry. Speaking of appetite, the origin of Cheddar cheese and apple cider can be found in Cheddar Gorge, a favorite little stopping place of mine, with lots of Cheddar cheese and cider (that's cider with a kick to it) for sale, and deep caves and high bluffs nearby. Cheddar cheese making began in this little town back in the fifteen-hundreds, and the caves were used for storing and curing the cheese. Speaking of caves, I have been to Wooky Cave, not far away that is reported to have some of the deepest underground river currents in Europe, plus a neat paper factory and penny arcade museum. I've also been to the "Rock of Ages." That's right, the rocks that inspired the church hymn. The little town that inspires me personally is Merriott, in southern Somerset; the town that my distant ancestors might have known since it carries the name that my surname derives from. It is mentioned in the Doomsday book way back in Norman times.
Thomas Hardy's Dorset County is the scene of many a great novel. Lyme Regis is an easily explorable little coastal town with a lot of character, where one can chat with the town crier in his own souvenir shop. Next door to Dorset is Devon County, which harkens you to many interesting places, such as, Exeter, Sidmouth, the "Bridge over Troubled Waters" (which inspired the Simon & Garfunkel song), Dartmoor Moors, and much, much more. Devon is special to me because Linda and I spent our honeymoon there in 1992 in a cottage, not far from the sea, and interestingly, near the largest donkey sanctuary in the world. However, we saw more sheep as we hiked through pastured trails and rocky red sandstone beaches. We also drove to interesting little towns along the coast, such as Budleigh Salterton, where we refreshed in a tea room, and then sought the location of Sir Walter Raleigh's birthplace (1552) at East Budleigh a little to the north. This stretch of Devon's coast was all completely satisfyingly memorable!
One memory of particular interest in Devon was our visit to Bickley Castle. Not a tremendously important castle, but at the gift shop we met Charles Fraiser-Smith. I know you are thinking, "Who is Charles Fraiser-Smith?" Well, he was the illustrious figure that the character "Q" was based on in the James Bond movies. Not the actor, but the actual person that Ian Flemming had in mind when he wrote the novels! Fraiser-Smith invented a lot of escape devices and spy gadgets for the Secret Service during WWII, and lived quite an adventurous life as a missionary in Morocco in his younger days. On this day, he was signing his autobiographies that were on sale in this shop. We talked to him for a while and really appreciated making his acquaintance; bought his book, and looked at a display about his spy gadgets and whatnots that were there. He was in his late eighties at the time and very lively for his age.
To reach the end of England's narrow western country peninsula, you come to Cornwall. I haven't been as deep into Cornwall as I would like to be, but I have been to Looe, and Polperro, two of the quaintest and most picturesque Cornish towns. Linda and I drove to Looe and spent one night, but traveled to Polperro the next day by local bus, which was interesting. Polperro is so compact that pedestrian traffic is about all that it can handle, but we found it to be well touristed even on a rainy day. We lunched on Cornish Pasties in an authentic tavern, and I wished more-than-ever that we could stay longer in Cornwall, but alas, we had to be in Dawlish, Devon, by evening. No doubt about it, the west country of England is full of sights and delights too numerous to account for, so don't get me started!!!
---
Roman Baths
Click here for a map of England