Getting reacquainted with London and absorbing the changes was the primary goal of the trip, coupled with meeting people we used to know at church, and meeting new members. Just a handful of the members we knew 10-years ago are still there, but there are a lot of new members that we were glad to meet, and I was asked to speak on Sunday morning. The New Cross Church is mostly made up of people from Ghana, Jamaica, Montserrat, Nigeria, and one or two from the Philippines and Ukraine. It has changed quite a bit since my first involvement back in 1986, but its presence is felt, and they have a lot of talent and potential. Coincidentally, the preacher at New Cross, Stephen Eusell, attended the Bible School in Trinidad that we visited last summer on our vacation. It's a small world sometimes!
As far as sightseeing is concerned, here is a breakdown:
Thursday, July 1: Dad and I went to Central London by rail, and visited St. Paul's Cathedral (1708), crypt and all, and climbed 530 claustrophobic steps to the Golden Gallery, to take in the incredible view of London. Each level of the Cathedral was packed with tourists. Then, away from the madding crowd, we visited Dr. Samuel Johnson's House, where he compiled the first English Dictionary in 1755. We nearly had the whole house--a tribute to Johnson's irreproachable love of English--to ourselves. Then, we walked to Covent Garden (where we saw a street performer juggle balls, and plastic bowling pins on a unicycle), Piccadilly Circus, and Trafalgar Square. Lastly, we located the house on Craven Street where Benjamin Franklin lived when he was a diplomat, between 1757-1762. These years, according to a biography, where some of the happiest years of his life. Later that evening, Dad and I took Reanna to Hilly Fields Park, in Brockley, to play. Daylight lasted till a little after 9:30 p.m.
Friday, July 2: Today, was mostly cloudy, with off-and-on showers; not very conducive for walking around much. Linda, Reanna, Dad and I drove to South Norwood (where Linda and I lived for two years after we got married). We looked at our old house on Warminster Road, and rang the doorbell of our old neighbor downstairs, but there was no answer. We drove, slowly, down the high street, and around a back-street to Norwood Junction Rail Station, to see what shops, etc., were still there that we remembered. To our discomfort, it rained, but the nostalgia hit us like a flood. I especially wanted to look around South Norwood more, but it just didn't work out. What a shame. Then, we drove 14-miles to Epsom, to visit Nescot College where Linda attended and received her nursing training. We then drove to Epsom General Hospital, where Linda and I tried to look up an old college friend of Linda's, but after our ten-year absence, no one knew where this friend was. We got a good look inside of the hospital at least. On the way back, we drove through Wimbledon and made two rotations around the All England Lawn Tennis Club grounds (the Grand Slam Tournament was in progress at the time). Linda had never been to the tennis grounds before and she was excited about seeing it, so she and I walked and peered through the gates a little bit. Then, we drove home and had a quiet night at Cherrie's.
Saturday, July 3: We shopped for gifts and groceries at Lewisham Centre (where I used to shop a lot in the old days). We enjoyed the shopping experience, getting up to date on consumer products. Then, Dad and I went to a lecture in East Dulwich about "Middle-Eastern Culture and the Bible," where we saw some people I used to know at the New Cross Church. Later, that evening, we drove through Rotherhithe Tunnel (1908) on the way to Whitechapel, in East London, to have a peek down Brick Lane. This is one of the most notorious spots of East London's cockney/immigrant history. I wanted to eat Indian food, but didn't know which restaurant to choose, so we allowed ourselves to be coaxed by a friendly waiter into an Indian restaurant called "The Spice," where we ate a delicious meal. Incidentally, Whitechapel is where Linda stayed her first time in London in 1990, when she came to interview for nursing programs. We tried to find the Salvation Army Hostel where she stayed, but found out from a local resident on the street that the hostel had been demolished a couple of months before. It was just a heep of bricks and rubble, surrounded by a temporary wooden wall. On the way home, we drove over Tower Bridge.
Sunday, July 4: We went to church at New Cross, and I spoke in the morning. A good crowd attended, including some visitors from the States. There were not many people left that I remembered, but just being there was a huge honor that made me feel rather emotional at times. That afternoon, we ate dinner at Cherrie's, and watched the Wimbledon Men's Final on TV (Federer beat Roddick). We went to church in the evening, and my Dad spoke. When we returned home, we watched the end of the Euro Football Cup on TV. Greece beat Portugal 1-0.
Monday, July 5: We all went to Charing Cross by rail, and rode the all-day London Bus Tour (an open, double-decker bus fleet that passes by most of the main sights of London, with live commentary by a cheeky but knowledgeable tour guide). Touring by bus was convenient because we couldn't walk a whole lot with Reanna; she wanted to be carried a lot. We ate lunch in St. James Park on the grass, and then got back on the bus for a while, and concluded our ride at Trafalgar Square. Then we walked to Covent Garden, watched a Mime, dressed as Charlie Chaplin, perform an entertaining show of juggling, and acrobatics involving people he picked out of the audience. It was great; I videoed the whole thing! On the way home, we took the train to New Cross Gate, and I glanced at a real estate office window and saw my old house at the top of Telegraph Hill has a flat for sale. The third-floor flat (above my old flat) is going for $480,000! It was a modest three-bedroom flat, not very big. We drove up and had a look at the front of the house, and I took some photos. I spent two memorable years in the house, from 1986-1988, and it was good to see it again.
Tuesday, July 6: This day we decided to venture out to Oxford. We wanted to play it by ear, so we packed some clothes to spend the night somewhere. In Oxford, we walked along the high street and looked at the shops, and college greens, as we passed. Ducked into All Souls College Chapel to look around, and then went to Radcliffe Square, arguably the most picturesque college square in the world. Then we climbed the bell tower of the ancient St. Mary the Virgin Church (1280), the oldest academic-related building in Europe. We wandered Oxford's arcaded shopping district, and then went to the venerable Bodleian Library (1610). The aged, sandstone courtyard was impressive enough, for we didn't have time to go inside for a tour. Lastly, we saw the "Bridge of Sighs," which links two buildings together. As we left Oxford, Linda was eating some hard candy in the car and accidentally upset some temporary dental work. So, we had to drop the rest of our plans (I wanted to visit Churchill's grave at nearby Blandon, and continue NW to Stokesay Castle), and turn around. We decided to go back to London and look for a dentist first thing in the morning. On the return, we encountered extremely slow traffic around Hyde Park, because of an event on Regent Street. At home, Dad and I took Reanna to Hilly Fields again to play. This was special, because Reanna learned how to swing on her own for the first time. We didn't come home till dark.
Wednesday, July 7: Luckily, we found a kind dentist that graciously fit Linda in fairly early (Dr. Marjani in New Cross). Thank goodness, we got that sorted expediently! Then, we decided to go south of London to Chartwell, the home of Winston Churchill from 1922-1962. On the way, we stopped briefly in Downe, at the home of Charles Darwin. But since we knew we were pressed for time, we did not stay for long, because we had to get to Chartwell fast, because a storm was coming up from south of the Channel. At Chartwell, the garden was splendid, and the house was every bit the quintessential English home we expected it to be. Much to our surprise, in Winston's study, was the book, The Arthur Vandenberg Papers. It just so happens my brother-in-law Michael Shane Neal was recently commissioned by the U.S. Senate Commission on Art to paint a portrait of Vandenberg, to be hung in the U.S. Capitol Building. Credit my Dad for finding the book on the shelf. I wish I could have taken a picture of it! It sort of indicates that the two men could have been friends, or at least acquaintances. Who knows? Not long after we exited Chartwell, it started to rain and storm heavily, so we ate lunch at the buffet restaurant next to the National Trust gift shop, and then drove around this area of Kent County a little while (Crockham Hill, and Westerham), and then we went home for the day. We went to church at New Cross in the evening.
Thursday, July 8: We shopped in Lewisham Centre in the morning. Dad and I took turns watching Reanna in the kiddie-playground, and then we ate lunch at Ponti's Cafe, in the centre. We took the shopping home, and then Dad and I drove to Greenwich Park by ourselves to visit the Old Royal Observatory (1675), home of the Prime Meridian, and Greenwich Mean Time (a prime location for Maritime history). Greenwich Park is the oldest of all London's Royal Parks. Henry VIII, Mary I, and Elizabeth I were all born at Greenwich Palace, which was located where Royal Naval College is today. I have been to the park many times before, and have walked all over it. Dad and I descended the hill to Greenwich Town, and saw the Cutty Sark (1869), the last remaining tea clipper ship, and then walked to the Greenwich Foot Tunnel (1902), where we crossed under the Thames, and looked back at Greenwich from the other side. We had a tea & coffee break at a cafe, and then we went home, slowly, via Black Heath. It was then time to pack our bags for tomorrow morning's early departure. Dad agreed to take some of our souvenirs back to the States, in his suitcase, to lighten our load.
Friday, July 9: We left Cherrie's at 5:00 a.m. to get to Heathrow for our 8:55 flight. We returned the Skoda; I must say it served us well, and then we said goodbye to Dad, for he was flying back to Nashville at 10:30. Reanna was sad to be separated from Granddady, but before long we were in Berlin, and meeting her cousins helped everything to be alright again.

London Afterthoughts: I wish we had more time to visit more places. I really would have loved to spend more time checking out South Norwood, and Crystal Palace, two places near and dear to me because I used to live in the area. But, our time was limited, and we saw as much as we could. Seeing old friends again, like Cherrie, and some others was of course, a blessing. London is still the magical place I remember. Except for the enormously slow traffic, it has not lost any of its luster for me. I was impressed with the nice, friendly atmosphere, and service I received everywhere. We felt safe the whole time, and did not have any particular concerns. London is expensive, yes, but not even that had a negative affect on us. We are thrifty travelers, for the most part. We simply had a wonderful time--a much needed return visit--and I hope we will return again in the not-so-distant future, Lord willing.
---
Berlin, July 9 - 21: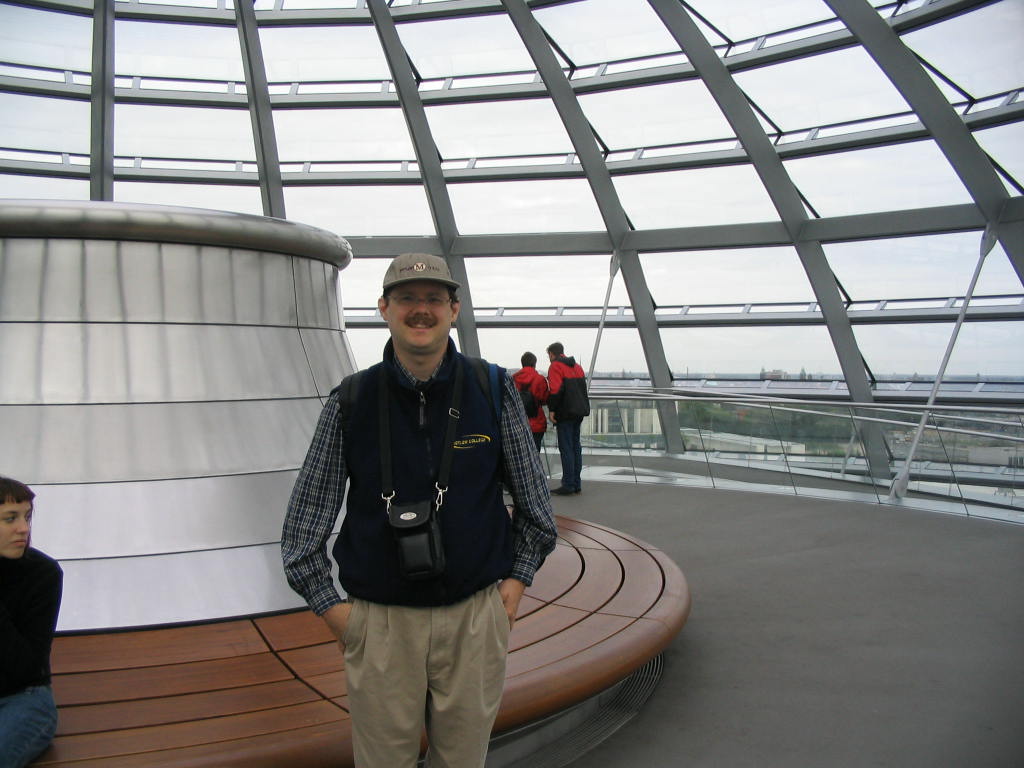 Landing in Berlin's Tegel Airport was a breeze! It is designed to get you from the plane and on your way quicker than any AP I have ever seen. You just walk off the plane onto the conduit, and then you are at passport control and baggage claim! You don't have to walk a bleeping mile to get there; it's right there, a few steps off the airplane! Forgive me for asking, but why can't all AP's be like this? And, as soon as you pick up your baggage you find your relatives, the exits, and parking lots to be ridiculously close, and convenient. Hardly any wasted steps at Tegel, let me tell you. We had not been to Berlin in 10.5 years, so I was eager to see how much had changed.
Linda's oldest sister Veronica, and her daughter, Susanne, picked us up at Tegel. Susanne drove us home, where we met Cathi, the younger daughter, and Gerald, the son (he lives on his own). The weather was slightly warmer and sunnier in Berlin. I was immediately "locked-on" to Berlin, and began to notice lots of differences from London. Even with a population of 3.4 million, Berlin is a lot smaller than London, and traffic flows much nicer. So many things run smoothly in Berlin that I can't help wonder how do they do it? It was only my second visit to Berlin, but most of the time I was sehr impressed because it is so clean, and efficient! If I had to criticize something, I would have to say there is way too much graffiti. It is the one blight on an otherwise well-run city.
We stayed a total of nine nights at Veronica's, and we did a considerable amount of sightseeing. Linda has six sisters in Germany, so we planned a reunion at Cindy and Peter's house in Rotensol, in the Northern Black Forest. All the sisters showed up, so we had seven sisters reunited for one meal on July 17. In addition, we saw six nephews, two nieces, and three brother-in-laws on the trip. Two of Linda's sisters, Juliana and Juliet, I had never met before. We rented an Opel Astra wagon (2.0 liter, diesel) for the trip to Cindy's, where we spent two nights, and then we went to Marjorie and Klaus's for a night, in Hochstetten, 24-miles north of Cindy's (a little north of Karlsruhe). The distance from Berlin to the SW was about 440 miles, and I drove over 100 mph for the first time in my life on the autobahn. It felt like a buzz, but the idea that the autobahn is some sort of lawless speedway, is way-off! The speed is controlled much of the time by speed limit signs that change often, and the road itself is built with many curves, to prevent you from sustaining high speeds. There was enough road construction on the autobahn to prove that German's are human.
Two surprises: First, I got fairly close to Bill Clinton--of all people--when I ran across the street to avoid his loud, police-escorted motorcade one day in Central Berlin. I didn't know who it was until the next day when I read the newspaper! And second, I couldn't get the Motlow Website to work in Germany. I tried at four different places and none of them would open the site; nor would they open MTSU and TTU. This may not seem like such a big deal now, but at the time it was very frustrating, and I could not access my work email.
Here is a breakdown of each day:
Saturday, July 10: I caught up on some much needed sleep--till 9:30 a.m. Then, my niece, Susanne, accompanied me to the Marc Chagall Exhibit at Max Liebermann House, next to Brandenburg Gate. Chagall was the father of modern "Expressionism," and this was probably one of the biggest showings of his work ever. I have been hoping to see this exhibit ever since I found out about it earlier this year. Next, we walked down Unter den Linden, observing the sights, to Marx-Engels Forum, where I photographed the bronze statues of Marx and Engels (the two most prominent leaders of communism and socialism). It rained a little, and we retreated underneath the trees. Susanne and I talked about history and architecture a lot. She has a degree to be an Architect, and is moving to the States in September to work. Then, we took public transport to Potsdamer Platz to see the Sony Center, a covered, ultra-modern shopping center with a cinema and cafe's. I was totally mesmerized by the transformation of Potsdamer Platz. It was completely desolate 10-years ago. We met Linda, Reanna, Veronica and Cathi there, and went to a mall across the street, and had pastries and ice cream. Later, back at home, I got on the Internet on Susanne & Cathi's computer for a while (they had a DSL connection with T-Mobile, and I used it on several occasions), only to discover that I couldn't access my work email. Bummer! And, I used the phone to call Mom and Dad in the States to tell them how we were doing.
Sunday, July 11: I ventured on my own today, and really saw a lot. I went to the TV Tower, an impressive structure built by the GDR in the late-60s, with an incomparable view of the city, in a city chocked with structures made for viewing. The elevator whisked me up 203 meters (665 feet) to the shiny steel sphere, where I studied Berlin's architectural landscape as I photographed every direction. I walked from Alexander Platz to Prenslaur Berg, which is one of my favorite parts of Berlin. This "alternative enclave" has become more gentrified, but it has not lost its appeal in my opinion. I got a much better view of the Wasserturm (1875) than last time, then I ambled over to Kollwitzplatz, still the heart of the district, and observed the cozy, laid-back Sunday behavior of the Prenz'lberger's. Next, I went to Gethsemane Church, a center of dissent in the late 1980s, and walked around the auditorium, not long after Sunday service finished. I felt honored to get inside. Then, I rode the S-Bahn from Schonhauser Allee to Ostkreuz, in the southeast; then decided to crisscross the city by taking the S-Bahn all-the-way to Spandau, in NW Berlin. This, I'll admit, was sort of a whim, but I wanted to see as much contrast as I could, and I have been curious about seeing Spandau ever since I saw a movie called Gotcha, staring Anthony Edwards, filmed in the 1980s. Plus, Spandau Ballet was a pretty good British band in the eighties, although they had no connection with Spandau, Germany, but so what? In Spandau, I walked to the Zitadelle (1560), a moted fortress, and looked around. Most of the people I saw looked like locals enjoying a nice Sunday afternoon. Then, I walked to Nikolai Church (1400s), which became Brandenburg's first Protestant church in 1539. By now I was very hungry, so I grabbed a Turkish kebab at a kiosk, and felt glad to see a little of Spandau on a quiet day. Next, I decided to go to the Reichstag (on another whim, to see the new dome) back over in Central Berlin, and coincidentally, saw Bill Clinton's motorcade en route to Hotel Adlon. He was in Berlin on a book signing tour for his new biography (I found out the next morning in the newspaper). I didn't get to see the dome because the queue was very long, so I looked at the new governmental buildings near the Reichstag, and headed for home.
Monday, July 12: Nearly all the museums are closed on Monday's, so I had to settle for what was open. I went to the haunting exhibit called "Topography of Terror" which is housed in the former Gestapo Headquarters cellars, which were demolished, but parts of one wall remain. A lot of people were there, presumably because the major museums were closed. From there, I walked to the former Checkpoint Charlie border crossing. I didn't feel like going to the private museum, since I did that last time, so I looked at souvenirs instead, and decided to buy a Russian wristwatch, and a GDR Army hat. A little replica guardhouse now stands where the checkpoint used to be. Just beyond the checkpoint used to be a large vacant lot, but now, modern office buildings have sprouted. From there, I walked to Gendarmenmarkt, one of the most beautiful piazzas in Europe, where the twin cathedrals of France and Germany stand, with the National Theatre in between. Then, I walked to the Friedrichswerdersche Church, which is a museum in homage to the German architect Schinkel. Then, I went by rail to Kleist Park, Schoneberg, and saw the Royal Colonnades (1780) and the famed Nazi "People's Court" building, which escaped the war undamaged. Then, out of curiosity, I located an old WWII Flak-Tower I saw last time, and photographed it from all sides. The odd thing about this large rectangular structure is that a modern apartment building has been built over it, but not touching it. It's one of the strangest things I have ever seen! (Check out the photo.) When I got home, I ate dinner, and then downloaded today's digital photos, from my camera to my laptop, and talked to the family about places I'd been to, among other things.
Tuesday, July 13: We all went to the TV Tower, and had lunch in the revolving cafe (above the regular viewing level). That was a treat! Fortunately, we got there just before the queue got too big. The Cafe food was moderately upscale in quality, but reasonably priced, I was surprised to find out. (I didn't even go to the TV Tower on our visit in 1994.) Next, we walked to the Red Town Hall and to Neptune's Fountain, but rain prevented us from staying long. The rest of the family went home, and I went to Berlin's Design Museum, at Kulturforum. I really wanted to see the "MOMA" exhibit, from the NY Metropolitan Museum of Art, but it was covered-up with people waiting to get in. (I never did get in to see it.) Then, I went home, and later, Veronica carried us in the car to see where Linda's youngest sister, Juliet, and her husband, are building a house in Neukolln, in what was formerly an allotment community with small "datcha-like" houses. The gardens were well manicured in this community. After that, Veronica drove us to the apartment building where she first lived when she moved to Berlin in the 1970s, and then we went home. I got on the Internet and sent some emails.
Wednesday, July 14: Today started off a bit cloudy and cool, as I left early for the Reichstag and got there at 7:50 a.m., ahead of the crowds (I was eleventh in line), to see the new glass and steel Dome. To get up there, one must go through a thorough security-check routine, and take a special lift, designed to carry a lot of people. I had tried to see the dome a few times before this, but the line to get in was always very long. The stylish-design, the views, the history exhibit, and everything was marvelous! On the way out, I saw the line had grown exponentially. Then, I went east by S-Bahn to Karlshorst, to a museum housed in the building where Germany surrendered WWII unconditionally, on May 8, 1945, which was fascinating. The room where the surrender took place has been kept exactly the same. Then, I went to Treptow, to the Soviet War Memorial, the burial site of 5,000 soldiers who fell in the Battle for Berlin. It was monstrous, but very respectable, in my opinion. I then walked around Treptow quite a while, looking for the "Museum of Forbidden Art," but it was closed for renovation, and I decided to explore the area some more on foot, and ended up along the Spree River, admiring a huge modern metalic sculpture called "Molecule man." Next, I explored a modern shopping mall in Treptow, which was quite nice, and I was getting hungry. I only had a Snickers bar in Karlshorst, since breakfast. I was tempted to buy something to eat at a fast food place, but I decided to head on back to Veronica's, where I knew I would find a meal. There was always something cooked, or some left overs at Veronica's. By the time I got home I was starving, but dinner was delicious. After dinner, I connected to the Internet and sent some emails.
Thursday, July 15: Veronica took us in her car to an Indian and a Chinese shop in Neukolln, which is a diverse part of South Berlin. Then, we went to where Veronica works, at E&M Electronics, for a brief tour. Then, I went to an Internet Cafe, and failed to get either of my two email accounts to work. Then, I rode the U-Bahn to Kreuzberg, and walked to Chamissoplatz, a lovely 19th C. square, with an authentic green, octagonal pissoirs (public latrine), where I answered the call of nature. Then, I walked to Viktoriapark, to see the Schinkel-designed War Memorial, built on one of Berlin's few hills, which had a nice view of Central Berlin. This evening, Veronica and Gerald carried us in the car to the cinema in Postdamer Platz to see Shrek 2 (in English). I can't say this enough, but Potsdamer Platz is a super hip place these days with the latest architecture, and sophistication-galore! We met Cathi and her boyfriend there for ice cream before the movie, and then we all went to the movie together. Shrek 2 was very funny, and the crowd got into it in a positive way. It was a great night out. Now, whenever Reanna hears the song "I'm a Believer," she calls it the Shrek Song!
Friday, July 16: Veronica and I went to pick up a rental car at Avis, an Opel Astra wagon (2.0 liter) diesel. Linda, Reanna, Veronica and I packed, and then we picked up Juliet, from work at 3:30 p.m., and we went 705 kilometers via Autobahn to Cindy and Peter's in SW Germany. It felt a little awkward driving in Germany at first, but before long I got "British-driving" out of my system and everything was fine. The traffic was a bit slow at times, with construction and weekend travelers heading out of Berlin. We saw a lot of modern windmills for generating electricity (Reanna liked these). With five of us in the car, you'd think we would stop a few times to use the bathroom, but we only stopped once for the WC, once for a snack, and once to fill up with diesel. The autobahn was immaculate (apart from road construction and maintenance) and all the facilities we saw on the way were of the same standard. Juliet was our main navigator, and CD changer. We listened to Norah Jones, and to a selection of oldies I brought, and we arrived in Rotensol a little after 11:00 p.m.
Saturday, July 17: We got re-acquainted with Cindy, Peter, and Jins. Jins is the same age as Reanna. I looked around their beautiful garden, and then I went for a drive in the Black Forest. The Tour de France was winding up and Lance Armstrong was nearly through to his sixth consecutive win, as I indulged in a Tour de Schwarzswald of my own (97 miles). The Opel handled the curvy, mountain roads just fine, and the roads were great, with lots of signs, giving very precise directions. The Opel was smoother, and more forgiving than the Skoda we rented in London. It seemed to bend with the road! With the limited time I had, I knew exactly where I wanted to go. After studying a map, I drove to Forbach, to see the lovely covered, wooden bridge, built in 1776, and restored in 1976. Then, I went to Altensteig, a picturesque hill-town, and walked around its cropped old half-timber houses, with a church and schloss on top. The temperature outside was the warmest I had encountered thus far on our trip, and after getting a little disoriented, I had to find my way back to the car. When I found it, I was hot and thursty, but I had water in the car, and it was air-conditioned. Then, I drove back to Cindy's, winding through the beautiful mountains, where a big reunion dinner was planned with all six of Linda's sisters, and some of their children. In all, seven sisters were there, and this was a historic day for the family! (There are two other sisters in North America, and two brothers in Trinidad, but it has been a long time since this many siblings were together.) Everyone chatted and enjoyed one anothers company until well into the evening, and then some had to depart.
Sunday, July 18: We enjoyed a quiet morning. My brother-in-law Peter works for an insurance company. He doesn't speak much English, but we get along fine. He is a big fellow, but has trimmed a lot of weight since I saw him ten years ago. In the afternoon, we followed Cindy & Peter in their car to Marjorie's house in Hochstetten. We all had our main meal of the day there, and visited. Then, We discovered that Reanna left her special blanket at Cindy's, so I had to go back for it later (Marjorie and son, Cameron, accompanied me to make sure I didn't get lost). That evening, a group of us drove to the Rhine River (not far away) to walk, and admire the river. To our surprise, we were attacked by a multitude of mosquitoes. I didn't know they had mosquitoes in Germany (I don't remember ever seeing one in England). We spent the night at Marjorie and Klaus's house, which was built in the 1600s. The house was made with "fach weg" construction, similar to what we call "Tutor" in America and the UK. I got re-acquainted with my brother-in-law, Klaus, who works for the National Railway. He speaks English and has a very warm, humorous personality. It was a warm night, as well.
Monday, July 19: Slow start, but I eventually walked around Hochstetten, a bit. Klaus and son's, Cameron & Cassidy, accompanied me and Reanna to the Bogensee, a nearby lake, where Klaus loves to fish. Then, Cameron showed me his Dell computer, with T-Mobile DSL Internet connection. At 3:10 p.m., we left for Berlin. On the trip down (last Friday), I flirted with driving 100 mph on the Autobahn, but this time I drove 105 mph, and held it a while, but as I said before, the "no speed limit" sections are few and far between. We pit-stopped at Frankenwald, which used to be a checkpoint at the border between East and West Germany. It's a nice convenience station now. We arrived at Veronica's at 9:55 p.m., unpacked, and then I took Juliet home. I met her husband, Mirko, for the first time. They have a very cool apartment in an older building in Neukolln. (P.S.: I found out several weeks later that I got a speeding ticket on the Autobahn. I was detected by an automatic camera for going 127 KPH in a 120 zone. Veronica called and said the police came to her door looking for me, but it was long after we had left the country. I guess I got away with it!)
Tuesday, July 20: Returned the Opel at 9:00 a.m. Total miles: 1,105; and we spent $136 on diesel. On our last day of the trip, I went to the Victory Column (1873, Siegessaule), in the middle of Tiergarten, and climbed the spiral staircase (227 feet) for the view at the top. I tried my best to photograph the scenery, but pictures are just a poor substitute for the real thing. (Some may recall the column, with the golden statue of victory, in a U2 video from the album Zooropa in 1993.) In the Tiergarten Park, I noticed that many people feel free to sunbathe in the nude (men, mostly). Then, I walked a long way to the Gemaldegalerie, Berlin's premier art collection by Master painters, located in the Kulturforum. I saw this collection 10-years ago, located in Dahlem, but now it is in a nice, new museum near Potsdamer Platz. Today, was the 60th anniversary of the failed attempt to assassinate Adolf Hitler, and there was an extremely large contingent of police and military guards all over Central Berlin. The German Prime Minister gave a speech today near the site where the conspirators were shot by firing squad in 1944 (and there was a movie on TV about it tonight). Lastly, I went to the new Holocaust Memorial, under construction, between Brandenburg Gate and Potsdamer Platz. I wanted to see more, but the warmer weather sapped all my energy. There will be plenty of things to see next trip. I went home, rested and packed. Juliet came over to visit us on our last night at Veronica's. We certainly had a comfortable and enjoyable stay, with plenty of great food!
Wednesday, July 21: We flew out of Berlin's Tegel Airport at 11:05 a.m., landed at London Heathrow, and then flew to Chicago and then Nashville. Arrived at Nashville at about 9:00 p.m. The individual TV screens on the flight across the Atlantic helped pass the time. Most of what they showed was crap, but I enjoyed watching the Ben Affleck movie Jersey Girl, and the sit-com Everybody Loves Raymond. My parents picked us up at the airport and took us home to Tullahoma.
Berlin Afterthoughts: Berlin is so unique, it's hard to compare it to anywhere else. I appreciate Berlin on multiple levels, and feel that I have gone beyond a cursory understanding of it. Whatever you make of its history, it is a fascinating place, and I hope it continues to prosper. Berlin is remarkably clean, safe and evenly distributed. Considering all that has happened, affluence is not restricted, and just about everywhere you go, you find decent-looking Berliner's going about their business. I did not encounter any particular social problems, or anti-American behavior. The Old Berlin is gently passing away, and a New Berlin is taking shape. Having family in Berlin and other parts of Germany is a blessing. Being part of an American-German-Trinidadian family is as unusual as Berlin itself!
---
Map of Brockley
Maps of South Norwood I | II
Bodleian Library
Oxford University
University Church of St. Mary the Virgin
Berlin's TV Tower
German Bundestag (The Reichstag)
Map of Germany
My first trip to Berlin in 1993-94