Roger Merritt's Home Page
Heidelberg

| | |
| --- | --- |
| This is the view of Heidelberg from the castle. Forget Disney Land--you just can't imitate a view like this! Linda and I spent the day here in August of 1992. Linda has three sisters that live within 70 miles of Heidelberg. I drove us there in my sister-in-law's compact Fiat. The first thing we did was walk up to the famous old castle, which is largely in ruins. It was an absolute thrill for me to explore the spacious baroque edifice of the castle, with its intricate architectural details and palace-like designs. It looked as though it was carved right out of the red-stone cliff, using natural materials. It's a shame that the French decided to destroy it (twice) in the 1600's. After visiting the castle, we wandered the streets and squares, and crossed the Old Bridge on the Neckar River. We listened to some jazz-playing busker's at a busy intersection of the old town, and weathered a freak hailstorm at a post office. I contemplated Mark Twain's visit to Heidelberg in about 1878, and figured that he would probably still recognize it, because it has been carefully preserved. This day was like a dream, and on the day before, we went to Rothenburg on the Tauber, which was even more enchanting in a way, but it would be too hard for me to choose which town was my favorite. | |
Rothenburg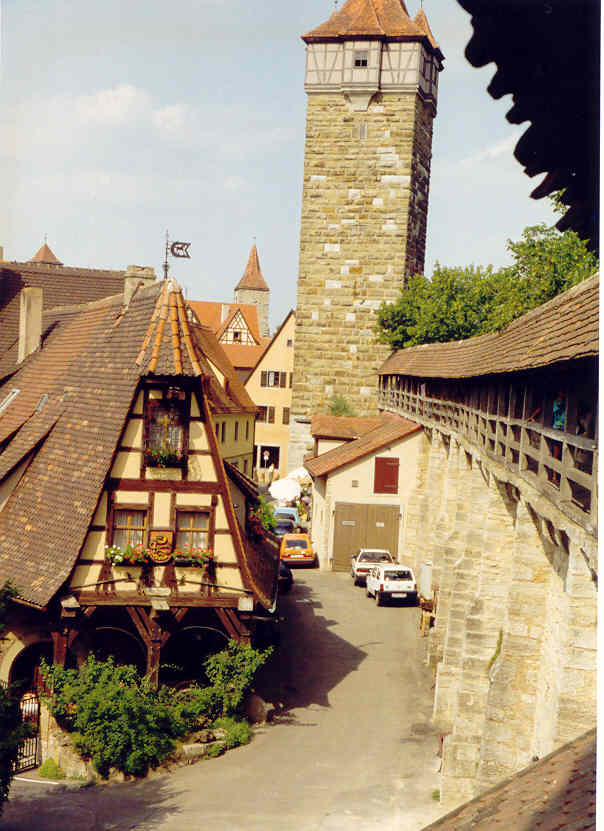 Rothenburg is one of Europe's best-preserved medieval towns, and is located on the "Romantic Road." Even though it is a tourist Mecca, you won't mind one bit when you see it firsthand; you'll just rejoice that it is still there. On this visit in 1992, Linda and I walked the sentry walk that goes almost all-the-way around the town, and admired the houses. They have so many interesting colors, roof designs, window fixtures, and gardens. This took a long time because I was taking lots of pictures, videoing, and relishing the whole experience. Great fun. We climbed the Roder Tower, which has a great view of the town, and roamed the streets, popping in and out of shops. At a couple of places, we literally popped out of the wall, stepping outside of the walled enclosure to sample some of the fruit from the many apple and plumb trees that surround Rothenburg, and the view of the Tauber River. Rothenburg, as the story goes, was saved in 1631, during the Thirty years War, from total destruction by the famous "Master Draught," when ex-mayor George Nusch, consumed 3.25 liters of wine in a single draught. I could have spent days exploring the town, but, as time usually does, it ran out on our magical daytrip to Rothenburg.
Germany is very special to me. Linda has six, yes, six sisters that live there, and each one has a family and is settled. Even before I met Linda I had a special thing for Germany--I guess it's the way they preserve their heritage, and keep all things tidy and in good working order. The beauty of the landscape and architecture is mighty pleasing to the eye, and the language barrier is not much of a problem at all. I feel extremely fortunate every time we visit Germany to see the relatives, because I can really experience the country at many different levels. I have travelled quite a bit around Southwest Germany by car, bus, train, bicycle, and have walked some of the trails in the Black Forest.
The towns of Heidelberg, Rothenburg, Schwabisch Hall, and Schwabisch Gmund are so full of character, and unique buildings that it boggles the mind. My brother-in-law and sister-in-law work in Schwabisch Gmund and live a few miles to the north. I had not even heard of it before, but after biking, walking and driving around I felt like it was a very attractive, historical town. I can't help but follow my curiosity, absorb all the sights and learn history when I'm in Germany. There's just no end to the amazing places to see. I think I could spend years there and just begin to scratch the surface.
---
"I have never enjoyed a view which had such a serene and satisfying charm about it as this one gives."--Mark Twain, 1878, in Heidelberg

"Heidelberg in May was foaming with fruit blossoms."--Elizabeth Gray Vining

Click here for a map of Germany