Roger Merritt's Home Page

Castles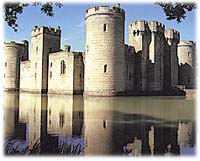 I have always admired castles. Like a lot of people, I grew up with romantic images of castles that were more legend than fact. I imagined them as being magically strong homes of knights and kings, that the "good guys" always had a castle, and that they all basically looked the same and served the same purpose. Well, now that I've seen a lot of castles, I know that they were built in all shapes and sizes that they served many purposes, and that kings would move around from one to another frequently. Some castles rarely ever saw battle, while others were sacked and ruined beyond repair. Each castle has a story, and I have tried to maintain my romantic notions about castles in order to keep things interesting, which is not a bad thing. Here is a list of castles that I have visited in Europe:
British Castles:
I visited all of the following British castles partly out of curiosity and partly to learn their history. I paid admission charges, where required, and often had a guided tour when ever possible, or spent considerable time there. Most of them are located in Southeast England, which was where I lived, and I often traveled to these castles on my own by motorcycle or by car. They were not merely viewed from a bus, or car window!
Allington Castle - Near Maidstone, Kent. Henry VIII slept here a few times. I had a tour of the castle by an old lady with two other people. It had a large banquet hall, and several brown crows lived in the courtyard (an unusual breed) that were unable to fly. Privately owned.
Arundel Castle - A beautifully restored castle on the side of a hill in West Sussex. It was damaged considerably in the Civil War in 1644 and rebuilt in the 17th-18th century. Arundel is an interesting little town as well. I've been there at least twice.
Bodiam Castle - Pictured above; one of my favorites. Surrounded by a mote; 12th century, interior walls in ruin, and located in the countryside a little north of Hastings, East Sussex. I've toured this castle twice. Although it is ruined inside, the outer walls are a tremendous example of defenses from the period. It's a very impressive sight, but the location is a bit of a puzzle to me; well off the coast in the middle of nowhere.
Caerphilly Castle - One of the largest and most powerful castles built in Wales, located a little bit north of Cardiff. One tower has a significant crack in it which makes it look as though it is about to topple over. This imposing castle sits inside of a huge mote. I've been there about three times, but only toured it once. Thirteenth century.
Cardiff Castle - Located in the capital of Wales. Restored to look like an extravagant palace. The outer walls enclose an older mote and bailey castle, and the Roman remains of a wall of some sort are accessible underground. I've toured this castle twice.
Dover Castle - One of the most impressive looking castles, not only because it is located on the white cliffs of Dover, but for its thick solid walls and Norman keep. This was one of the earliest Norman strongholds. The day I toured the castle (my dad and a friend was with me) there was hardly anyone there. A Roman lighthouse and a Saxon church is nearby.
Dunnottar Castle - An impressive ruin in Scotland, along the NE coast, below Aberdeen, near Stonehaven. Built on a rocky outcrop of land along the cliffs. The Scottish Crown Jewels were kept here for safe keeping in 1651-1652, while Oliver Cromwell was trying to get them. They were smuggled out and eventually came to rest in Edinburgh Castle, where they are today. Dunnottar Castle has a long and impressive history, but it is not as well known to tourists. My family and I went there in June of 2008.
Durham Castle - A Norman mote and bailey now incorporated into Durham University, and near Durham Cathedral. The combination of these buildings and setting are very satisfying.
Edinburgh Castle - In the middle of Scotland's capital city, and one of Europe's finest for its hilltop castle skyline. Cobbles, Crown Jewels, and a spectacular view. Also the location of the Regimental Tattoo. I've toured the castle three times (1986, 1993 and 2008).
Ensford Castle - An old ruin, located SE of London, in the countryside of Kent. Many of the stones have been plundered for nearby buildings.
Guildford Castle - An impressive looking square-shaped tower-ruin. Located in a park in Guildford, Surrey.
Hadleigh Castle - A relatively small ruin near the Thames estuary in Essex county. Very windswept and desolate looking.
Hastings Castle - A windswept ruin atop the bluffs of the seaside town of Hastings, East Sussex. It has a dramatic view of Hastings below and the Channal. Norman period. I've been there a couple of times.
Hever Castle - One of my favorites. This was the childhood home of Anne Boleyn, later bought by Henry VIII. Well restored and landscaped. I've been there about three times. Has an Italian garden and pond, located in the tiny hamlet of Hever, Kent. A delightful place to visit, and often crowded.
Hurstmonceux Castle - Unusual name, and style. Built mostly of red brick. Located in the countryside of East Sussex. I did not take a tour (it didn't appear to be open), but looked at it from the road.
Leeds Castle - One of the most romantic. A Norman castle built on two islands in a lake. It has been in the Royal Family since the 900's, and looks like a fairy-tale castle, beautifully restored. I've been there for a tour at least 4-5 times (as recent as 2008), and it was always fairly busy. Has a bird sanctuary and gardens, and is located near Maidstone, Kent.
Lincoln Castle - Home of one of the few copies of the Magna Carta, located opposite the famous Lincoln Cathedral, in Lincolnshire. It has great views from its towers. Inside there is a unique prison chaple, where the inmates were isolated from each other and could only view the speakers pulpit. I've been there twice.
Newport Castle - A relatively small Welsh ruin in Newport, Gwent. I don't know anything about this one, but explored it.
Rochester Castle - Also one of my favorites. A hauntingly ruined but tall Norman keep. Twelfth century, with extraordinary view of the Thames estuary. I've been inside four or five times. There is no regular tour, but you are allowed to explor all the levels on your own. Rochester, in Kent County, is also famous for its Charles Dickens museum; a lively place.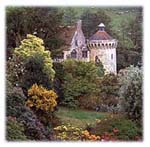 Scotney Castle - A quaint little moted ruin with gardens in the countryside of Kent, pictured above. It's popular for its gardens.
Tower of London - The Grandfather of all British castles, and a massive tourist attraction in London. Museums, Crown Jewels, Beefeaters and lots of history. I've been there and toured it with a Beefeater tour-guide at least four times, and it was always crowded (I had a number of opportunities to go there with visiting friends and family).
Tonbridge Castle - A rather impressive Norman keep (the rest of the castle is gone), now the focal point of a city park in Tonbridge, Kent. The old mound of the mote and bailey section is now part of the garden landscape.
Upnor Castle - Built to protect the warships of Queen Elizabeth I, that were anchored at the Medway River, north of Rochester. It has seen battles with the Dutch in the 17th century, and received WWII bomb damage in 1941. It is maintained today as a National Monument; not easy to find, however.
Warwick Castle - A large, restored castle, with wax figures in period dress, built beside the Avon River. Has a large single tower with a great view of Warwick, Warwickshire. I've been there once to tour the caslte (it is fairly popular), and once to explore the town.
Windsor Castle - Still a home to the Royal Family. Looks like a big castle outside, but a big, lavish palace inside. Very grand in every way. I've been there three or four times to tour it, and there is always a big crowd. There was a fire there in 1993. Located not too far west of London.
---
German Castles:
I visited these castles during a few different trips to Germany.
Altensteig Castle - A very well restored hill castle overlooking Altensteig, in the Black Forest. A couple dozen half-timbered houses are clustered beside it on a hill above the Nagold River. A local history museum is housed inside. A lovely setting.
Heidelberg Castle - A mostly ruined baroque castle overlooking the town of Heidelberg and the Neckar River. A very romantic setting. The stone used to build the castle and the grounds hava a strikingly reddish coloring. I was mesmerized by this place. Simply one of the most beautiful sites in Europe!
Hoenreichberg Castle - A partially ruined castle built atop Reichberg Mountain, located in South Central Germany, between Stuttgart and Munich. The only castle I have ever seen with a coin operated turn-style admission gate. Has a great view of the Schwabian alps, and is about a thirty minute drive south of one of my sister-in-laws home. I videoed this one a lot.
Hohenneuffen Castle - A large ruined castle in the northern foothills of the Swabian Alb, above the town of Neuffen in the district of Esslingen in Baden-Württemberg. At an elevation of 2437 feet in a strategically advantageous location on the slopes of the mountain range. It began in 1100, and was added onto till the 14th century. We visited here in summer of 2014, with Linda's sister, nephew, and others.
Marksberg Castle - On a bluff overlooking the Rhine River. I did not get to tour this castle, but I spent the night in a hotel below it, and for almost two hours couldn't take my eyes off its beauty. This is my ideal concept of a castle perched atop a forested mountain in Germany.
Nuremberg Castle - Built on a slight hill by a Kiser, it has been carefully restored from World War II damage. I could hardly tell that it had been bombed, but most of central Nuremberg was, and today looks impeccably neat and ancient.
Rothenberg on the Tauber - Although this is not considered a mere castle, it is a walled medieval city that looks very much like a sprawling castle. If you like this sort of thing, Rothenberg is the ultimate. I've walked all around the sentry walk, and climbed its towers, videoing as I went. It received some bomb damage during WWII, but has been rebuilt in those parts to look remarkably well composed with the old.
Boulogne, France:
Old Town - Boulogne's medieval old town is completely ensconsed by a thick castle wall, replete with towers, sentry walk, and cobbledstones. I had seen it from the train at a distance a couple of times, and when I finally got the chance to see it close up I had a wonderful time exploring.
Prague, Czech Republic:
Hradcany Castle - One of the most dominating sites of Prague, located high on the west side of the city, containing governmental offices, museums, churches, and Golden Lane, where medieval alchemists and Frans Kafka once lived. I walked through it on two occasions, and was totally impressed by the gothic.
Malta:
Mdina - An ancient hill town, and former capital of Malta, surrounded by great walls and towers. The only traffic is by foot. Every building and wall is built with the same lime-colored stone.

Valletta - The capital of Malta since 1570. Though it is a capital city, it is arguably the most fortified castle in Europe or the Mediterranean. It has been surrounded by thick ramparts since the 1500's.
---
Castles are no longer used as defenses, but it's a good thing that they are still around to remind us of how barbaric we used to be. Who's to say that we will not be building castles again in the future? I don't know, but I suggest that we learn from our past, try to imagine the function of castles, and keep some of the romance that we have always associated with them. Get out of the "Theme Park" version. Visit a real castle in Europe, and see what it is all about.